This article is Carnival Jubilee Advances to Sea Trials. It is about Carnival's new ship final preparations before she is delivered to the cruise line.
The featured image is from Carnival Cruise Line.
Carnival Jubilee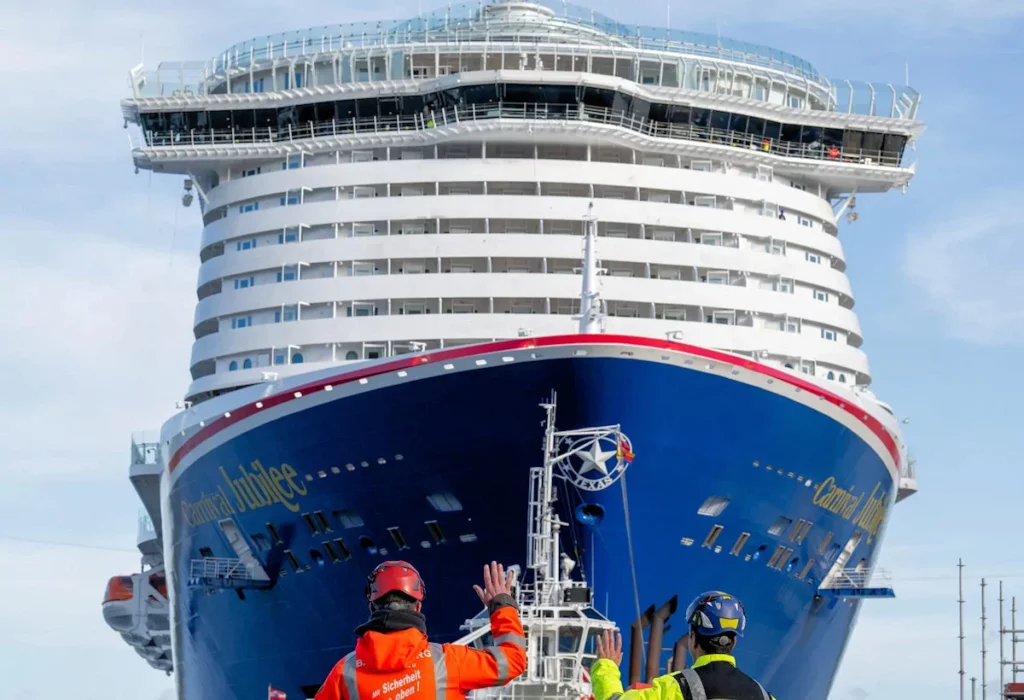 The Carnival Jubilee is the third ship in the Excel Class for Carnival Cruise Line. Jubilee will offer sailings from Texas to the Caribbean.
The ship is 182,800 gross-ton vessel. The vessel will allow for thousands of guests from Texas and beyond to Choose Fun and enjoy all the awesome amenities including Bolt, the rollercoaster at sea.
The ship will feature Emeril with dedicated restaurants as well as special menus by the famous chef.
11 Mile Backward Adventure
In order to prepare for the sea trials, Carnival Jubilee has to maneuver a narrow body of water for 11 miles. The ship traveled backwards in order to reach the north sea where the sea trials will take place.
The 11-mile adventure took place in Germany on the River Ems.
Tugboats assisted in the process of navigating the narrow channel of water.
Jubilee is now in Emshaven Germany where she will begin sea trials in a few days.
Sea Trials
Jubilee begins Sea Trials on November 5, 2023. The ship is tested on sea worthiness and safety during sea trials.
The process will take multiple days and will involve testing all of the systems of the ship to ensure she will perform well in all circumstances.
Jubilee
The ship will begin sailing from Texas in December with a Holiday Maiden Sailing on December 23, 2023.
The ship will allow for about 6,000 guests to enjoy all that Carnival has to offer.
I loved my experience sailing on Jubilee's sister ship Mardi Gras. You can read about the experience here.