This article is Celebrity Xcel Announced. It is about the fifth Edge Class Ship to join the fleet.
Celebrity Xcel
Celebrity Xcel is the newest Celebrity cruise ship.
The new ship is coming in November 2025.
The Xcel will be the fifth ship in the Edge Class of ships.
I previously sailed on three of the Edge Class ships and am booking on the fourth in December 2023.
You can read about my experiences on the ships here: Edge, Apex, Beyond.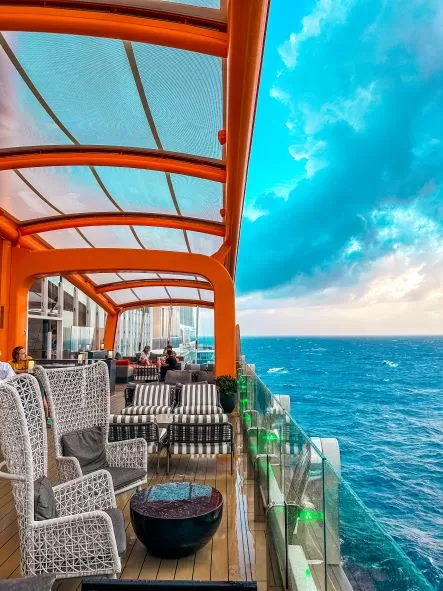 The iconic feature of the class is the Magic Carpet. The Magic Carpet hangs off the side of the ship and allows passengers different experiences depending on the deck it is positioned at.
New Ship
The new Celebrity ship will sail from Fort Lauderdale beginning in November 2025.
The Xcel will offer alternating seven night sailings to Eastern and Western Caribbean from Florida.
For the Western Caribbean itineraries the ship calls on Bahamas, Mexico and the Cayman Islands.
The Eastern Caribbean itineraries call on Puerto Plata, St. Thomas, and St. Maarten.
There is a special five-night Bimini and Cozumel sailing on November 18, 2025 for guests that want a quick experience of the ship.
Features
Celebrity Xcel will include the Retreat which is the ship-within a ship experience for suite guests.
The Retreat offers a two level sun deck along with a private lounge and gourmet dining.
In addition, the ship features the Infinite Balcony Cabins that the Edge Class of ships has made popular. These cabins blur the difference between inside and outside rooms. There is a window that lowers with the touch of a button to create a balcony like experience.
In addition, Celebrity Xcel offers the following options:
An expanded Rooftop Garden and stunning Resort Deck featuring unique cantilevered float pools;
A multi-level, multi-terraced Sunset Bar redefining the ship's aft;
A Daniel Boulud fine-dining restaurant at sea;
Live entertainment and activities creating the best date nights and days at sea;
A boldly redesigned Grand Plaza spanning three decks, creating an airy and open indoor space;
Steel Cutting
On November 7, 2023, Celebrity took the first step in building the ship via the steel cutting ceremony.
The ship is built in France in Saint-Nazaire.
Check out the press release from Celebrity Cruises here.
Celebrity Ascent
Celebrity Ascent is the fourth Edge Class Ship.
In a related ceremony, Celebrity officially took delivery of the Celebrity Ascent on November 7, 2023 at the ship yard in Saint-Nazaire.
The crew will make the finishing touches on the inside experiences as the ship sails from France to Fort Lauderdale for the inaugural sailings beginning on November 22, 2023.
Exciting
What exciting news for Celebrity today with the delivery of Ascent and the announcement of Xcel.
Who wants to join me for the November 18, 2025 five-night sailing to Cozumel and Bimini?